News
Tax Bills Are In the Mail!
Details

Published: Wednesday, 21 September 2022 15:02
Street Closures this Weekend
Details

Published: Friday, 16 September 2022 11:18
Please Note the Whirligig Festival is happening this weekend and there will be some street closures to allow for foot traffic only down on the waterfront area where the Whirligigs will be set up.
Barricades will be at:
-John & Dock St.
-Charlotte & Water St.
-Maiden Lane & Water St.
-Ann & Water St.
-St. Patrick Lane (bottom) & Water St.

For any residents that live on these affected streets please consider parking your vehicle up on Water Street or you may move the barricades for local traffic only.

Thank you and hope you all get out to enjoy the festival!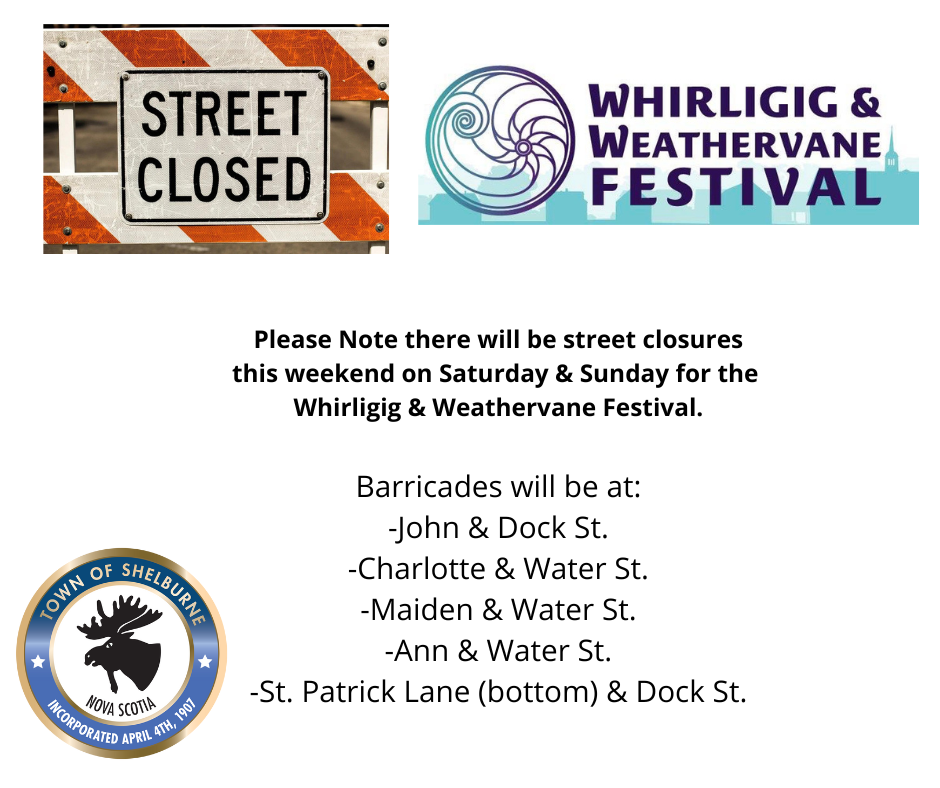 King St. Family Centre Upgrades.
Details

Published: Friday, 09 September 2022 12:47
This project supports the modernization of the King St. Family Centre exterior. Activities include roof replacements, installation of energy efficient windows and siding, as well as construction of a new accessible ramp. The province has contributed $187,500 and the remaining coming from Municipality of the District of Shelburne, Town of Shelburne and Little Peoples. These upgrades will benefit many families in our community.
Seniors Care Grant Applications are Now Open
Details

Published: Thursday, 01 September 2022 13:10
Applications for the Seniors Care Grant are now open.
The Seniors Care Grant aims to help low-income seniors with the cost of household services (like lawn care, snow removal, grocery delivery, transportation, small home repairs and phone service) and healthcare services (like physiotherapy and mental health support). Earlier this year, it was expanded to include more services and provide a one-time $250 emergency heating grant to eligible seniors.
The heating grant will be
available to all eligible Nova Scotians 65 and older, including people who have received the Seniors Care Grant and the Heating Assistance Rebate Program in the past year.
Seniors will be eligible for up to a maximum of $750 this fiscal year.